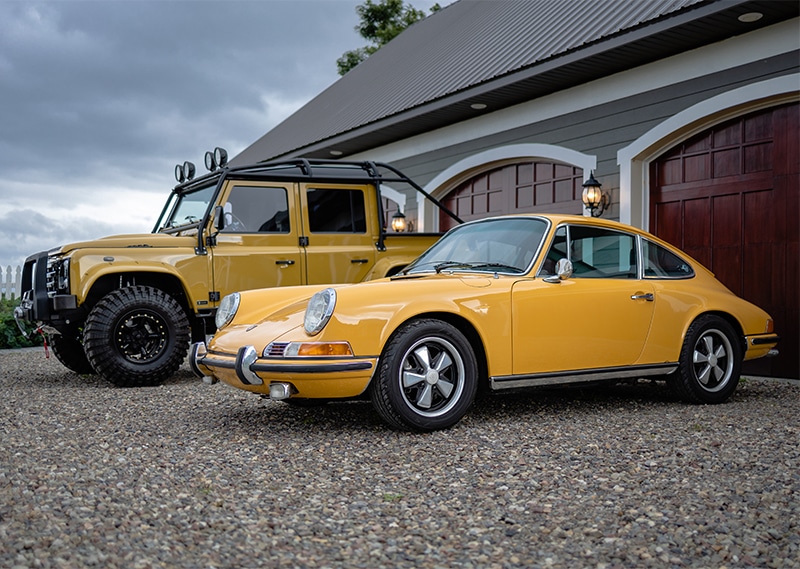 Defenders for Investors and Car Enthusiasts
Due to the volatile stock and real estate market, more individuals than ever are moving their savings into tangible collectibles like art, antiques, jewelry, watches and classic cars which has driven a specific interest in Helderburgs. Helderburg is classified among investors as The Premier Investment Quality Defender. A Helderburg is a fusion of classic luxury and modern design, tech and performance while staying true to the ethos of the original engineers in Solihull UK. The value of a proper Defender (non engine swapped) has increased in value by 480% over the last 10 years which has outpaced the stock market. So one must decide their financial goals and if they are in the market for a hot rodder engine swap Defender that has proven to depreciate at auction or an Investment Quality Defender that has increased in value at auction that can be driven, enjoyed and passed on as an heirloom investment or sold eventually.
* Sources: Hagi Index: http://www.historicautogroup.com/, Hagerty Market Ratings and BaT Auction.
Helderburg is a Fusion of Classic and Modern
A Helderburg is designed to retain collectible value while providing performance and tech for today's lifestyle. We redesign and restore original classic left-hand drive Land Rover Defenders that were originally built in Solihull, UK from 1990 to 1999. Our clients are investors, collectors or enthusiasts that love the looks of a Classic Land Rover and want performance and modern technology without sacrificing the increasing monetary value and collectible status that Defenders have gained over the last 18 years.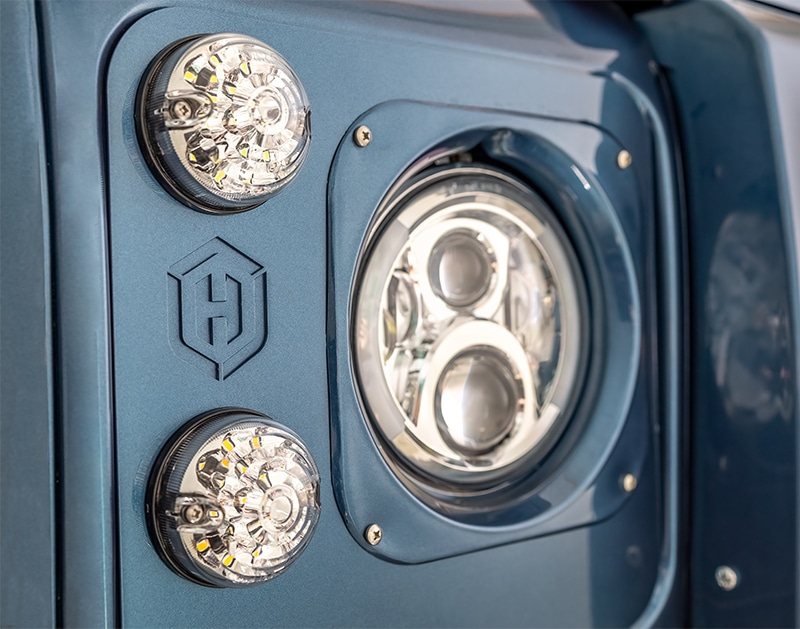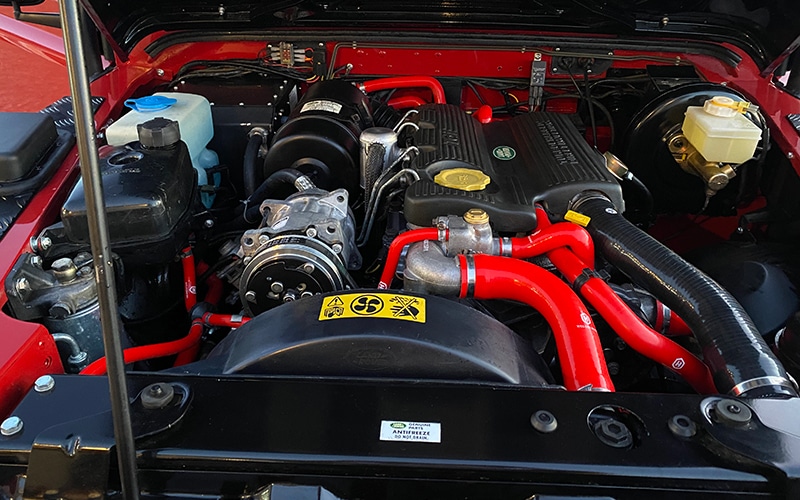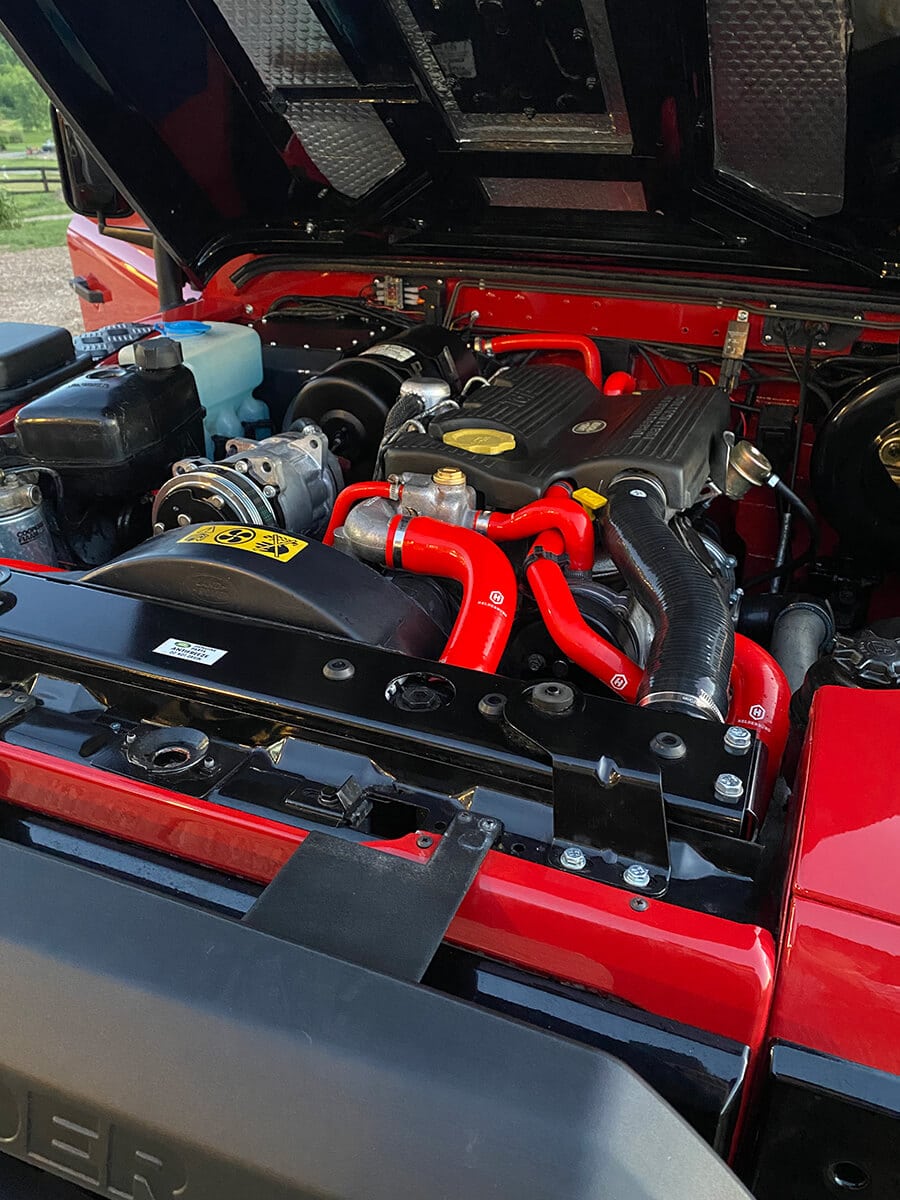 Performance without Sacrificing Collectible Value
Step into the extraordinary world of the Helderburg Land Rover Defender restoration—a masterpiece revered by collectors worldwide. With an array of powerplant/engine options and transmission choices, we collaborate closely with you to determine the perfect combination that aligns with your desires. Experience the harmonious blend of modern enhancements and the timeless allure of the iconic Land Rover Defender.
At Helderburg, we push the boundaries of performance without compromising the collectible value of this automotive icon. Our meticulously crafted restorations offer a selection of powerplants, including the 300 TDi Turbo Diesel, TD5 Turbo Diesel, GM LS3 with a 6-Speed Automatic, Tesla Electric, and the Cummins R2.8 Turbo Diesel. Each option delivers its own unique blend of power, efficiency, and driving experience.
Alongside our powerplant options, we provide an array of transmission choices, ensuring the perfect match for your Helderburg Defender. Whether it's a classic manual transmission or the seamless convenience of an automatic gearbox, we tailor the driving experience to your preferences.
Embrace exhilarating power, refined handling, and the inherent collectible value of this automotive legend. With Helderburg, you can have it all—performance that thrills and a cherished piece of automotive history that will endure for generations.
Welcome to the extraordinary world of Helderburg, where performance seamlessly coexists with the allure of collectible vehicles.
Luxury and Technology
Helderburgs receive extensive insulation and sound deadening. We custom fabricate a heating and air conditioning system which provides a comfortable Luxury cabin superior to other Land Rover Defenders. The cabin incorporates a touch screen, backup camera, hands-free calling, and high-fidelity audio. A Helderburg cabin, with its attention to detail and fine craftsmanship, has a discernible difference.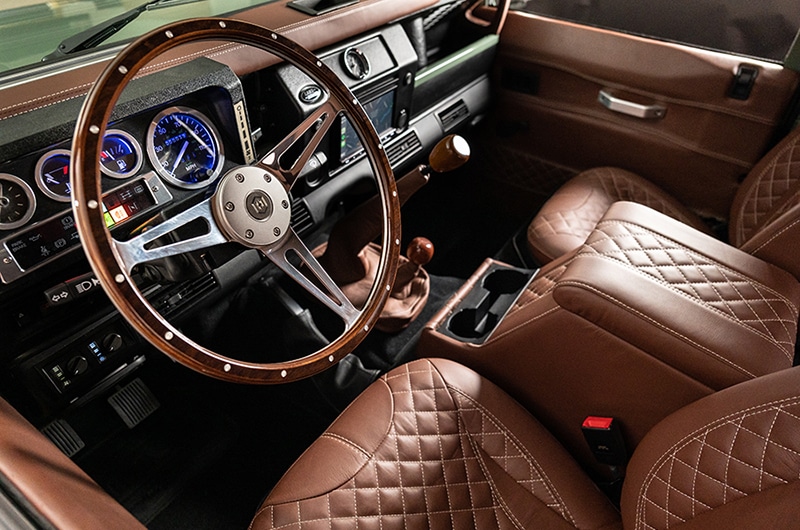 Little Things Matter
On a Helderburg you will find that everything has been considered from the billet aluminum windshield spray nozzle that does a fan spray of fluid to the billet aluminum exterior door handles that have recessed finger grooves. It's the little touches on a Helderburg that make the difference.
Comfort is Key
A Defender looks rugged and the majority drive like a truck unless it's a Helderburg. Our pursuit from the beginning was to create a Daily Driven Defender with modern day conveniences and comfort. Supreme comfort is standard in every Helderburg.