Preserving History and Creating a Unique Craftsman Look
The state of New York has a long history of craftsman wooden boat builders perfecting their craft along the many bodies of water throughout the state. The craftsmanship of building or restoring a wooden boat is only left to a select few still in the trade which is unfortunate. This leaves many wooden boats left to decay and never be restored to their original beauty. The wood that was originally selected for these handcrafted wood boats is the finest in the world that was hand selected and worked by craftsmen from years ago. We feel it's the best choice for a Helderburg Cargo Floor.
The process of reclaiming the wood is satisfying to the soul. The character of the reclaimed boat wood is noticeably superior and very special vs newly harvested wood. We prefer to preserve history in our wood floors and in the Land Rover Defenders we craft.
Helderburg Wood Floors can be custom crafted for any type of Truck or SUV and is not limited to only Land Rover Defenders.
To commission your very own wood floor contact us to discuss the project. Price starts at $6,740 and takes approx 3-4 months to complete the project.
Gallery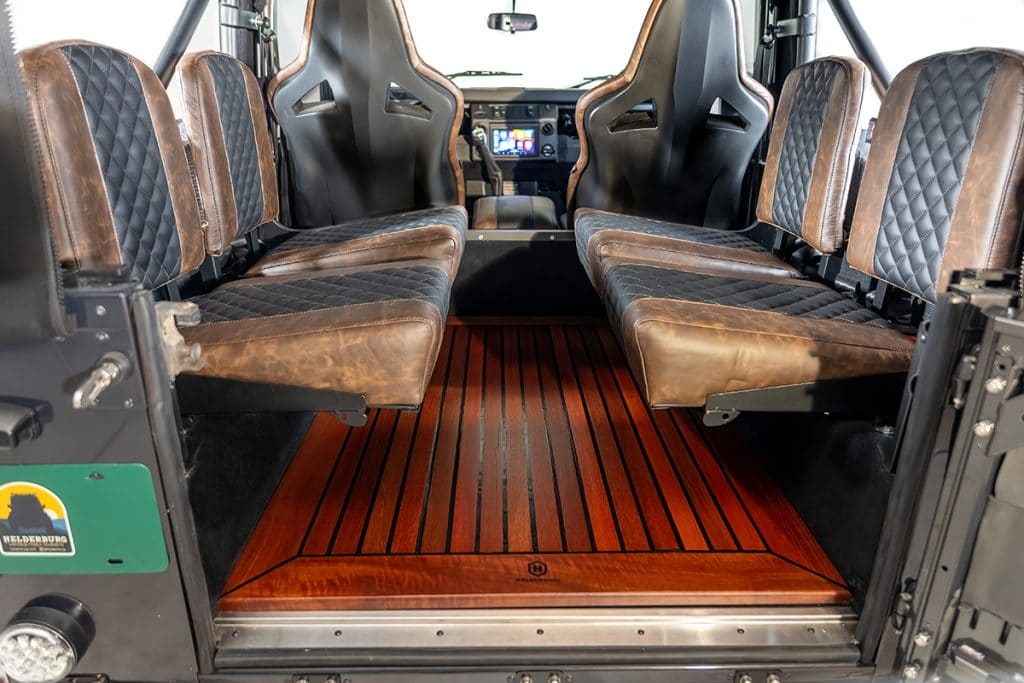 Popular Questions We Receive:
Do we only make wood floors for Land Rover Defenders?
No, we can make wood floors for any type of Truck or SUV.
Will the wood floor hold up to dogs or water?
Yes, The wood is very dense/durable and we cover it with Total Boat marine grade lacquer. It's preferred if you have dogs since it's easier to clean than carpet and will never have that wet dog smell.
Can the wood floor be removed easily?
Yes, the floor lays on top of the existing carpet and can be taken in and out by one person within two minutes.

Is the wood floor slippery when wet?
It's not really slippery due to the satin lacquer and caulk lines.
Can the wood floor be shipped?
Yes but they are heavy so would require truck transport. Shipping cost is approx $225.00 – $300.00