What a Land Rover Defender Says About Your Personality?
This week I had a guest from Santa Clara, CA and we got into the discussion of what each of our Defender builds says about an individual.
I didn't lead him, I just asked what he felt the personality is for each Helderburg.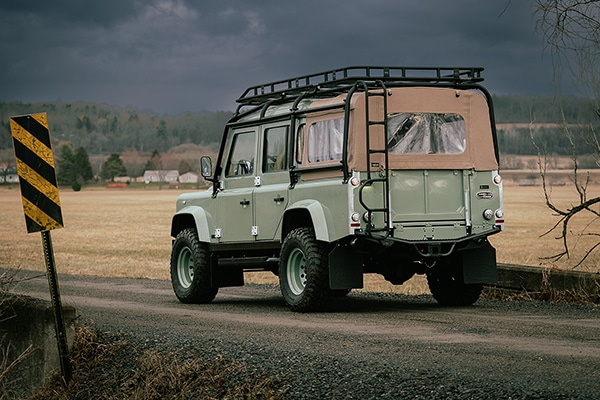 Starting with Antoni D110 Double Cab
"I think George Adamson The Father of Lions… Rocks and since I can't have a Lion I will drive a Land Rover."
It says the client likes Classic Land Rovers and the Safari Feel but they also want some modern design elements and definitely want a luxury interior that rivals a Bentley. It's absolutely going to be the coolest ride picking up the kids and their friends at school and will always be easy to find in the parking garage. To see interior pictures and videos of Antoni Click Here.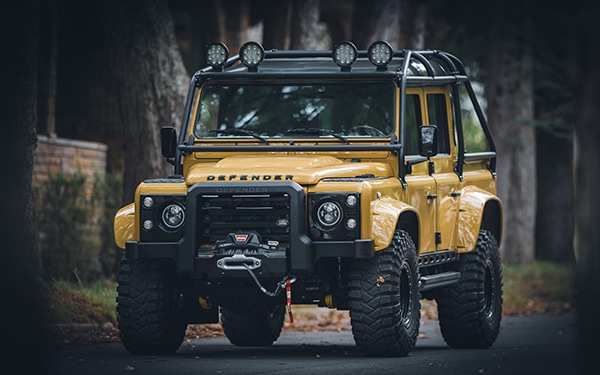 Moving to Bayeux D110 Double Cab D130
"The James Bond Spectre Movie was cool and I'm comfortable with bold colors."
It says the client has probably had some Defenders in the past that were likely black, grey or white and now they decided to really do something different. It also says they are not scared to drive it off-road, get it stuck and pull it out and not be concerned if it has mud on it. This is also an easy one to find in a parking lot, but you will definitely have strangers taking pictures and asking questions when you stop anywhere. To see interior pictures and videos click here.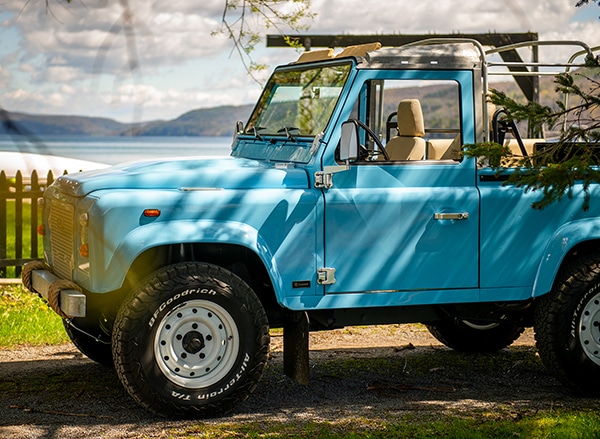 I Really Enjoyed Building Vrboska a D90 Soft Top
"The lyrics I hear are 'If everybody had an ocean across the USA then everybody'd be surfin like California'… a Popular Beach Boys Tune."
It says the client loves the ocean, sand and classic Land Rovers with a modern twist. They also are into nautical decorating. It also says they like to drive on the beach and love people… since they will definitely be getting a lot of questions and people asking if they can take pictures. It's also a safe bet they don't wear denim and probably won't be hauling dogs due to the interior. You have to see the stereo, cargo floor and seats…click here.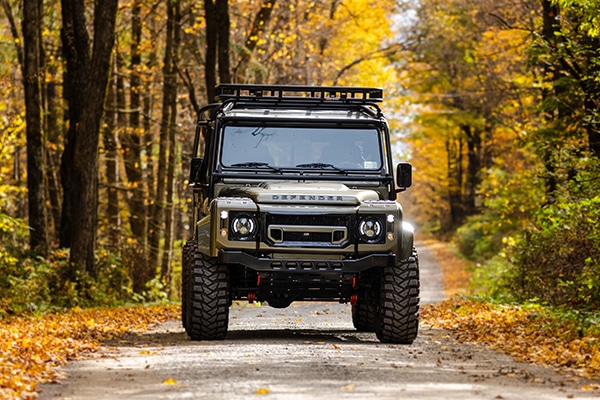 The Instagram Favorite with over 11 million reactions, saves and shares is Enzo the D130
I'm not sure what this build says about me since it's my personal truck. I started to sell it over a year ago and then when the calls started rolling in and two people showed up to the farm without an appointment… I simply could not let it go. I will tell you when designing it, I wanted it to be sleek and not overdone with accessories I didn't need or would not use e.g. winch. I designed it for me and I think it came out perfectly. The only problem is, I've seriously had several strangers follow me home or tail me until I stopped so they could see it and take pictures… seriously no joke! See more here.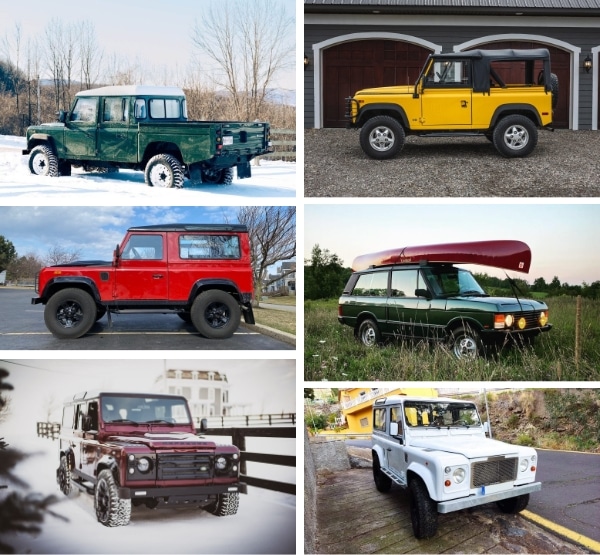 We've added some recent builds to Helderburg.com so when you get some time check it out BUT I will also tell you we have some Defenders that are available right now that were traded in on new builds.
1995 Armando D90 Hard Top – $104,400 (-$14,000 discount)
1991 Reggie D90 Hard Top – $67,400 (-$10,000 discount)
1995 North American Spec D90 Soft Top – $102,400 this is a collectors model and can be registered in California easily
1994 Gaza D130 Truck – $86,800 – As you know D130s are very rare and this Defender will be worth $110k in the next two years. 
1993 Range Rover 2 Door with a 200 TDi… YES 2 Door! Very, Very Rare! New Carpet, New Headliner, New Leather Seats, New Tires and NO RUST. It's a Unicorn and drives perfectly! $24,450 (It's been my personal Rover for the last year+)
Bosco, a Helderburg Build – Bosco D110 – The client is trading in Bosco on a D130 build. It only has 2,200 miles since the build and you could have it in your driveway immediately and avoid the current wait.