Bespoke Classic Defenders modernized to provide creature comfort, technology and reliability for select individuals that want something special and unique to drive daily.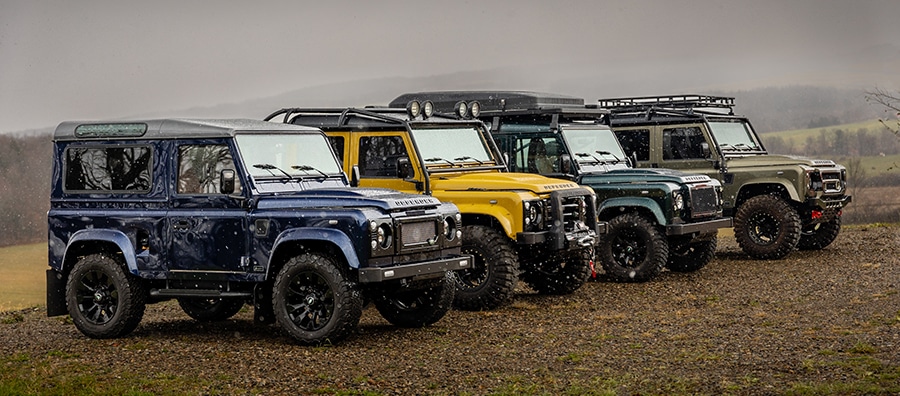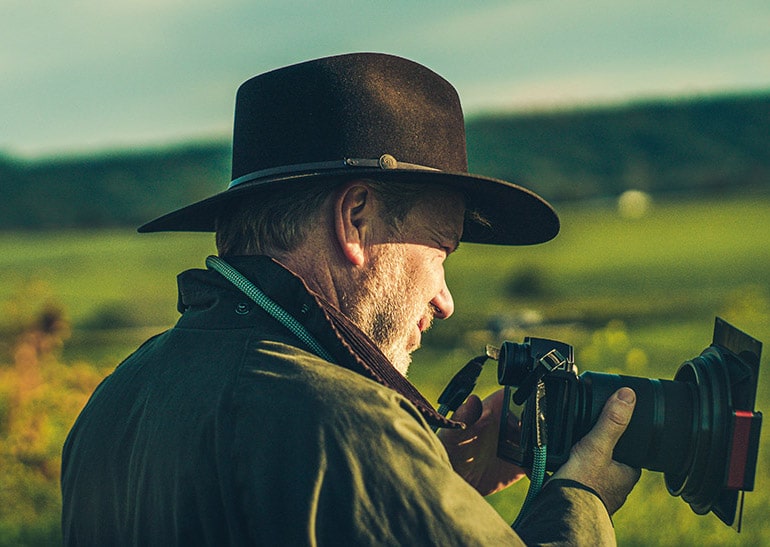 The experience of Defender ownership is knowing you have something that is now a family heirloom that you can pass to your children and all the fond memories will never be forgotten… Paul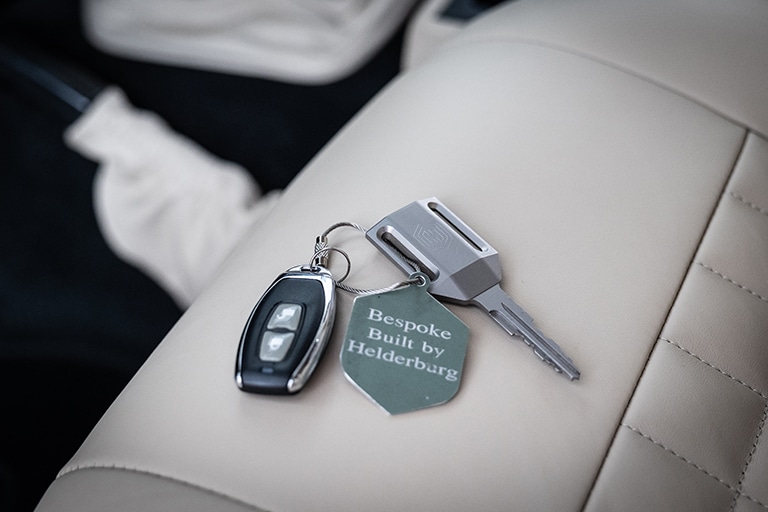 Our Daily Driven Defenders are one of the most practical, reliable and absolutely best looking vehicles on the road today due to years of development, retrofits and upgrades to modernize them. We have developed the superior Classic Defender that's comfortable to drive and easy to park in a busy Metropolitan city, while keeping the classic looks and soul that you can also enjoy on the beach or in the mountains for a weekend getaway.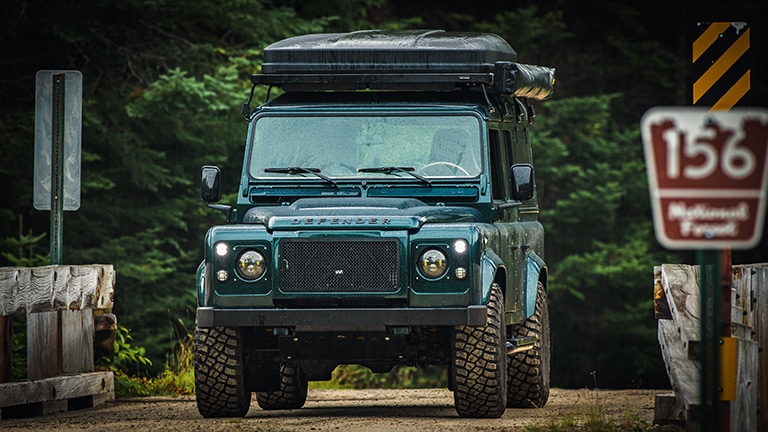 Highway Speeds and MPG
Through years of development we have been able to maximize the output gains of the highly reliable and long lived 300 Turbo Diesel Fuel Injected Motor, while keeping fuel efficiency 23-28 mpg with an average range of 450 miles. Standard horsepower is 111 bhp and with the advances we have been able to gain significantly more horsepower which allows you to exceed the posted speed limit, pass slower vehicles and cruise at 75 mph comfortably.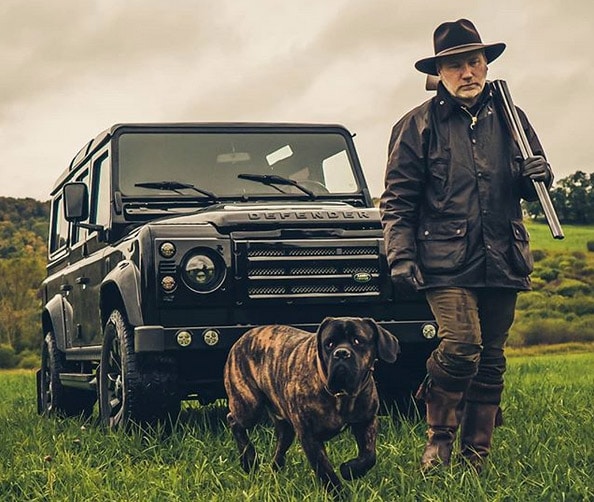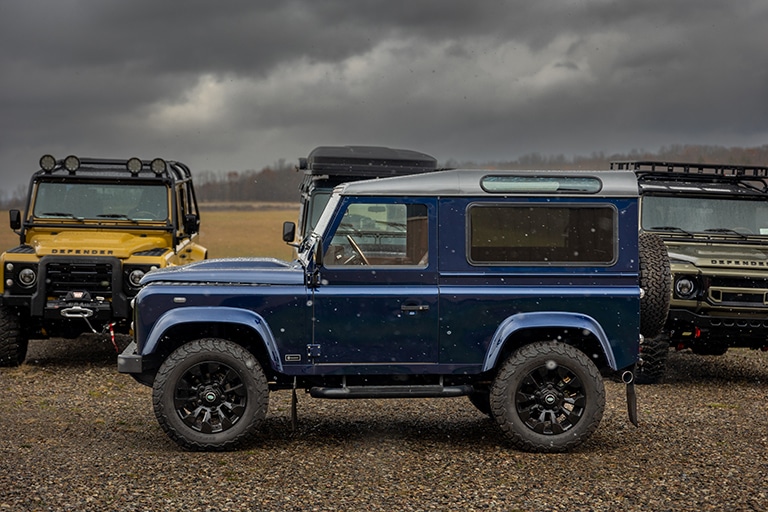 Reliability and General Maintenance
The Land Rover Defender with a 300 TDi motor is notoriously reliable and has a very long service life exceeding 500,000 miles. That is the only motor we use and is the same motor found in fire trucks, ambulances, military trucks, delivery trucks and in Defenders exploring the world where engine failure would most likely result in loss of life. The maintenance is minimal with an oil change approx every 7,000 miles. If you need a part it takes a maximum of 48 hours since all parts are plentiful and readily available from Vermont, Florida, New York, California and several other large parts houses that specialize in Defenders. Finding a shop to service a Defender is extremely easy since the vehicle is very easy to work on. Any shop that works on imports can most likely work on a Defender. There are thousands of qualified shops nationwide. Cost of annual ownership on a Diesel Defender is $312.00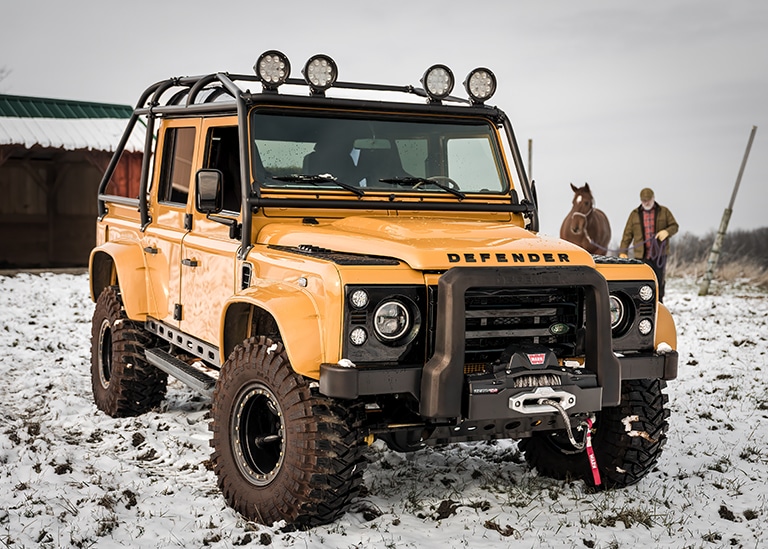 Manual Transmission
Automatic or manual transmission. We install new British hand built transmissions specifically designed to match the engine, transfer case and differentials. We also offer an optional transfer case if you do a lot of high speed highway driving.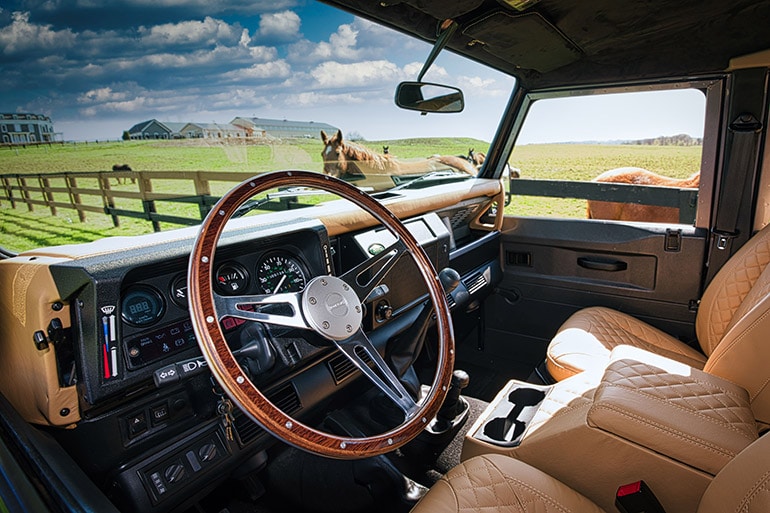 Accurate Steering and Stability
Due to advances in steering stabilizers, anti-sway bars, bushings and our retrofit advances the steering is precise at any speed and Defender does not float, feel sloppy or bouncy at slow or highway speeds. Driving through corners is a totally new experience with a Helderburg Daily Driven Driven Defender since body roll and lean has been eliminated which provides a comfortable ride in the mountain or on on-ramps during that daily commute.
See what other Defender drivers have to say: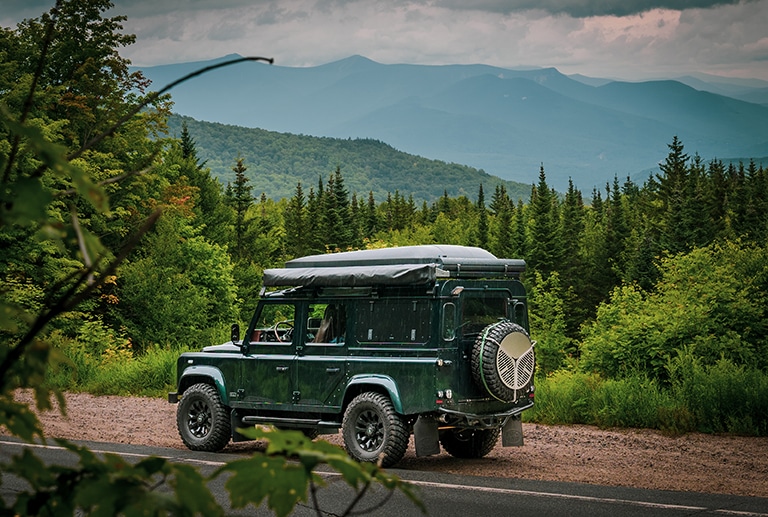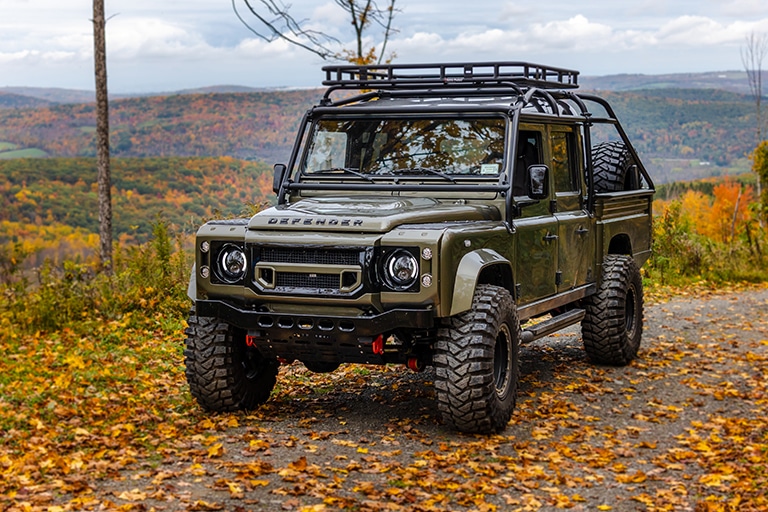 Insurance, Registration and Titles
A Defender is insured like any other vehicle on the road except the rates are generally very low. On average you will pay less than $400 every 6 months for full coverage through Geico or Allstate on a Bespoke Defender. Registration is also like any other vehicle where you have a title and can drive it on any public road. There are no special laws, exclusions or exceptions with a Defender. It's just like a new or used Jeep Wrangler when it comes to registration, taxes and titling. (excluding California)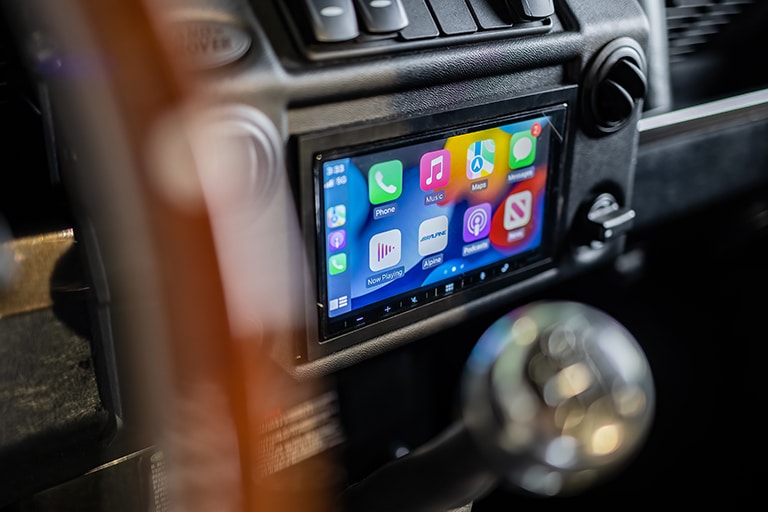 Technology and Apple Car Play
Yes you can stream and control your iPhone or Android. Hands Free calling is a breeze so you can work from your Defender and in between calls you can voice control your music, podcast and respond or send text messages. If you're an audiophile then you will appreciate the 7 speaker touch screen sound system. Parking a Defender is very easy with a night vision backup camera with parking lines and we even offer a parking aid camera to ensure you don't scrape the curb when parking.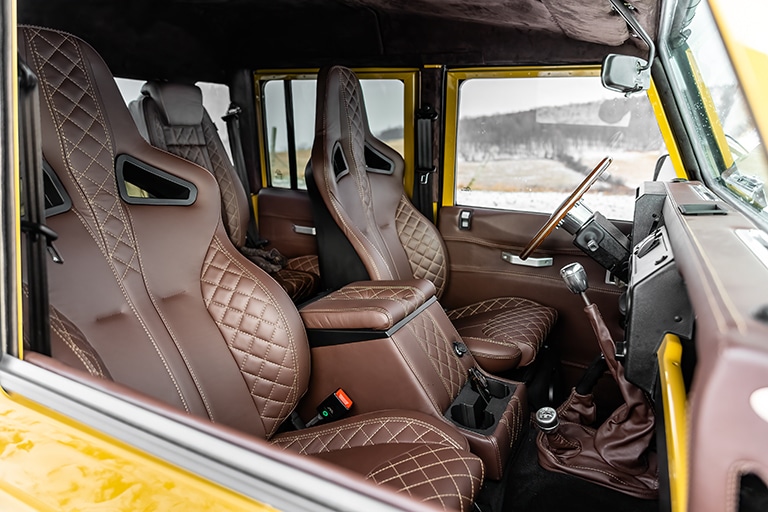 Creature Comforts
Plush heated leather reclining seats for driver, passengers and 2nd row passengers make any trip enjoyable. Driver and all passengers have multiple USB charging ports for phones and camera batteries. We even offer optional center console charging pads and AC plugs for laptops, air mattress pumps or anything else. Plenty of comfort for the entire family, pets and room for hobbies. Air conditioning system is a modern system capable of cooling the cabin in Las Vegas and the heating can heat the cabin in Maine.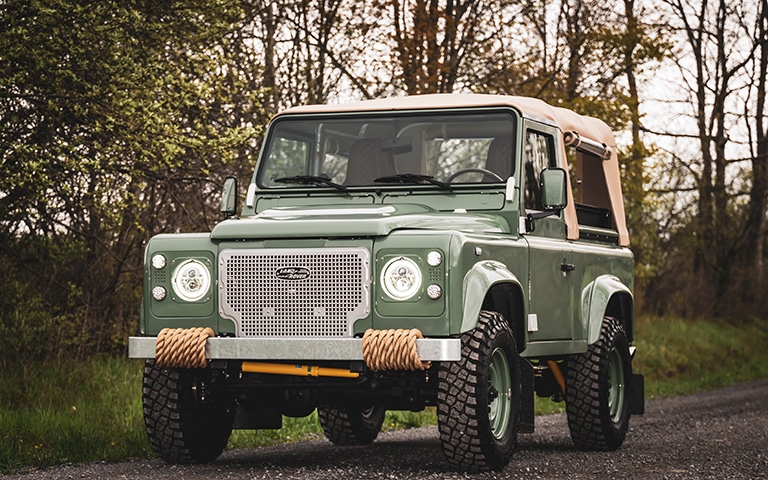 Modern LED Lighting
Headlights are high output LED and will light up the darkest roads with daylight brightness. Daytime LED running lights will make you noticeable in busy traffic or on quiet roads and when stopping or turning the vehicles behind you will know with the bright LED stop lights and turn signals. The interior cargo area also has LED lighting so it's easy to see everything at night. Most also really like the rear LED work light mounted at the rear of the vehicle which makes it easy to hook up a travel trailer at night.
Receive Alerts of Available Now Defenders You Can Purchase Today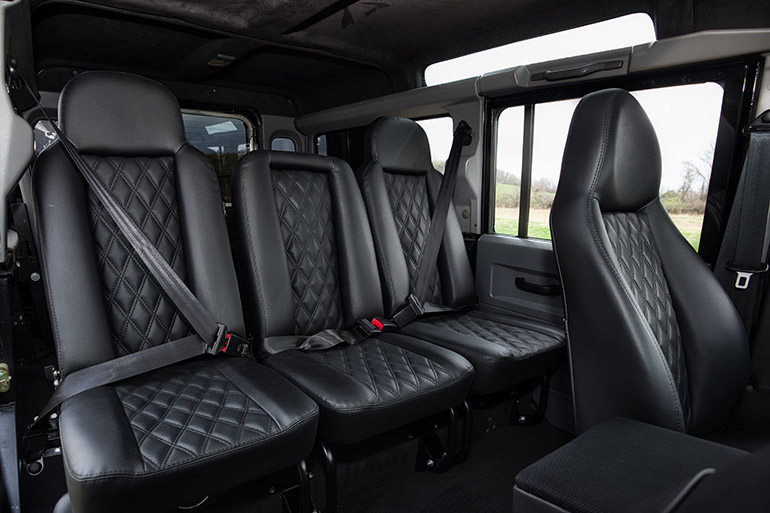 Power Windows and Locks
Some choose to add power windows and a central locking system and is the ideal option when it starts to rain or you want to get some fresh air. This is an easy addition to any Bespoke Defender build.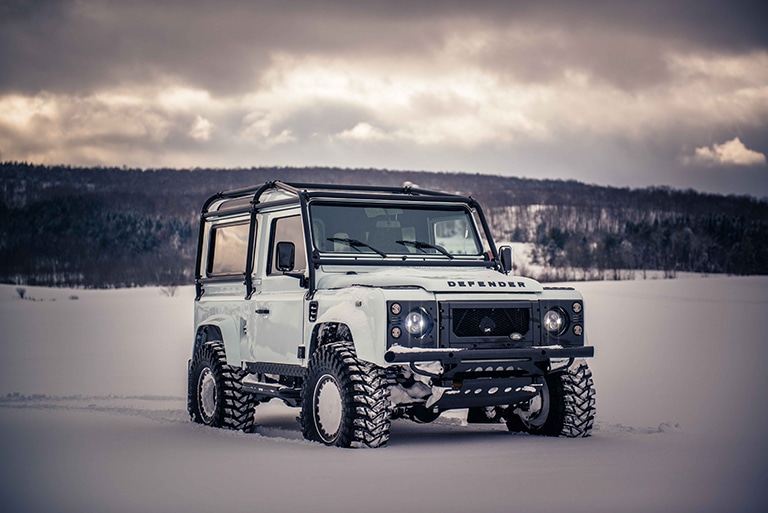 Safety and Stopping Power
So many advances have been made to stopping power and all of our conversions are upgraded to 4 wheel disc brakes that are sure to stop a 2 door or 4 door Defender quickly. We also offer cross drilled rotors and larger calipers for even more stopping power. Defenders don't have air bags and that is not an option but they are heavy vehicles with a full steel frame from front to rear with steel bumpers. A Defender does not have any computers so air bags are not possible but every seat has new modern seat belts that react when a sudden stop is sensed.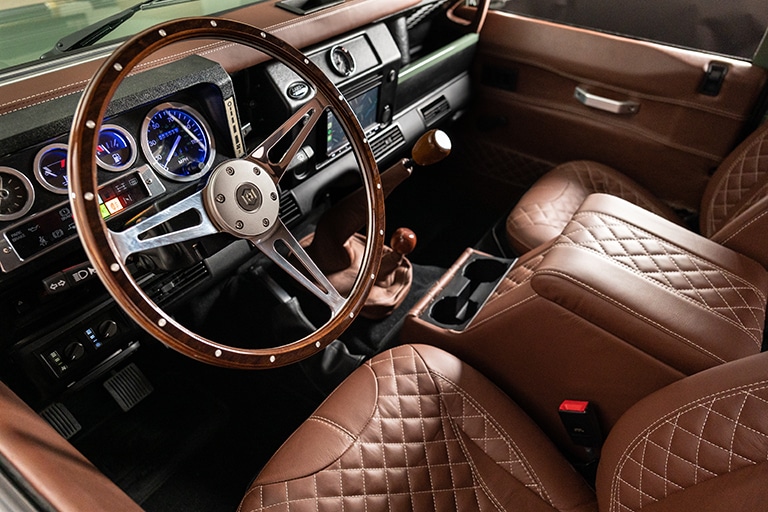 Seating Configuration and Leg Room
The D90 2 door model can seat up to 6 average size adults and the D110 4 door model can sit up to 9 average sized adults. During the Bespoke Build Styling call we discuss your height and weight since the design of the seats, arm rest and leg room is designed to provide optimal comfort. We recommend seating and storage configurations based on your hobbies and intended use.
Call or text me to discuss what Defenders we have available currently. Paul
Call or Text
518-788-4724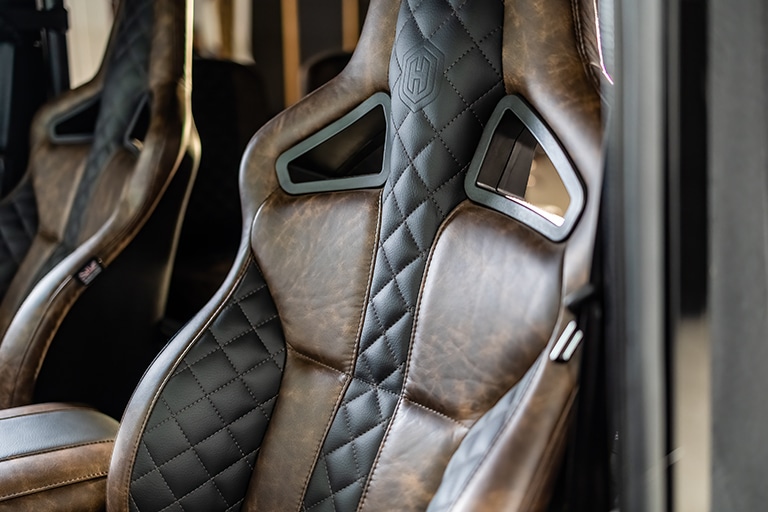 Hands Free Calling Capable
I do drive my Defender daily and my commute to the office is 50 miles which means it's the perfect time to do client and team calls. So the answer is yes you can have conversations on hands free and everyone can be heard clearly. We have made this possible by adding multiple layers of sound deadening treatment throughout the entire vehicle. The addition of heavy weight carpeting, improved window and door seals and suede window surrounds and headlining, the sound is reduced by 60-70%. The sound inside of a Defender is comparable to a Dodge Ram 2500 pick up truck or similar to a hard top Jeep Wrangler.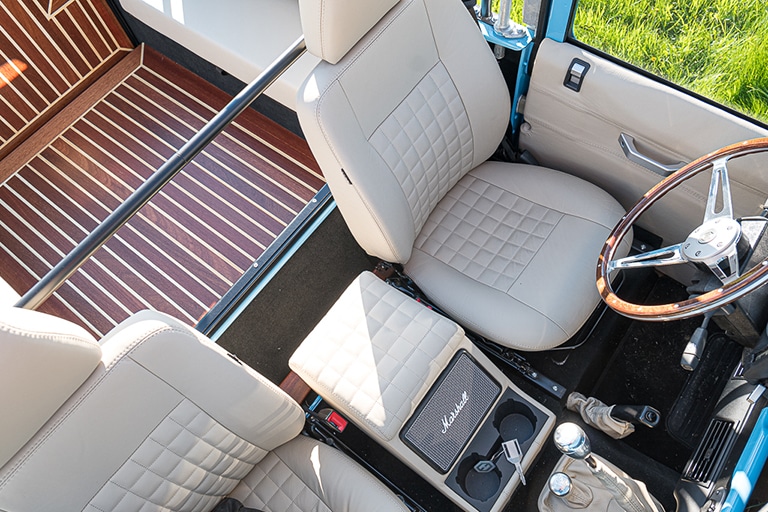 Defender vs. Your Current Vehicle
This is probably going to be your first Defender and the vast majority of our clients have never driven a Defender so allow me to provide you with reference points but you are always welcome to visit me in Sharon Springs, NY to experience a Defender on the highway or off. A Defender is not as quiet nor does it have the acceleration of a Ford F150, Yukon or Toyota Tundra. It's much more like driving a Jeep Gladiator, Wrangler or Jeep Compass. It feels more stable, planted and substantially more luxurious and plush. A Defender is seriously not for an individual that wants to avoid attention. It's a simple fact that Defenders are rarely seen in the United States and when they are, many people are excited and want to ask questions. They often ask if it's OK if they take pictures. In all my years everyone is respectful and happy to actually see a Defender in person.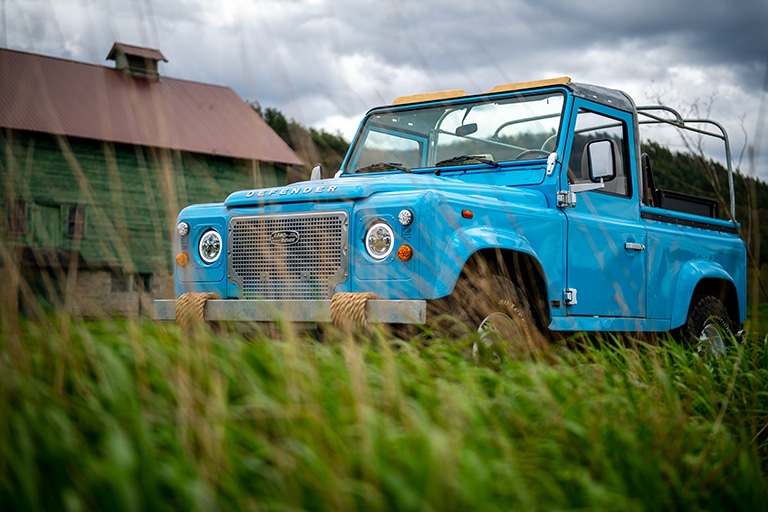 What Will a Defender be Worth in 3-5 Years
There is not another vehicle you can purchase today that will actually increase in value after you drive it home. Classic Defenders have not been made for many years and will never be made again so supply is limited. The United States has strict laws which limits the number of Defenders allowed in the country every year. Demand is high and supply is low which has driven prices up every year.
The average annual appreciation (increase in value) is $1,800-$2,300 on a Defender vs. other vehicles depreciate (lose in value) by 20-30% in the first year alone and loses 60% within 5 years*. Defenders also don't lose value if you drive a lot of miles since they are extremely reliable, parts are plentiful and inexpensive. Defenders can easily go for 500,000 miles with minimal maintenance and diesel engines are known to be very long lasting. *Source: Carfax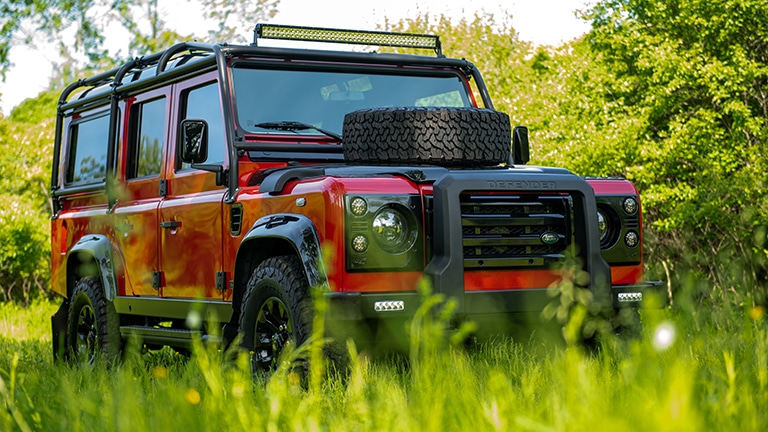 Financing a Defender
Your Bank or Credit Unions will finance a Defender like any other pre-owned vehicle. There is nothing different or any special requirements. Currently interest rates are low for pre-owned vehicles. When you call them tell them you are interested in financing a 1996 or 1997 Land Rover Defender and they will provide a current apr. Also if you're a business owner it would be worthwhile to call your accountant to get the details about the tax code 179 that states businesses can deduct up to 100% of vehicles purchased for the business that are 6,000 lbs or more. Might be a nice tax write off. (I'm not a tax advisor it's what I have been told and you can also search for it).